Peanut Butter Soba Noodles
The ultimate comfort food that you can make from your pantry
Peanut Butter Soba doesn't sound very appealing, but fortunately: it is. It has a rich and fatty flavor. All the key ingredients are not perishable so you can always have that at home. This recipe will describe the base dish, but you can make it more fun by topping it with things you have at home. I've tried many things and it's pretty hard to mess up here. Somehow almost any topping works with this thing: From mango to picked radishes.
This dish can be eaten hot or cold, it doesn't matter.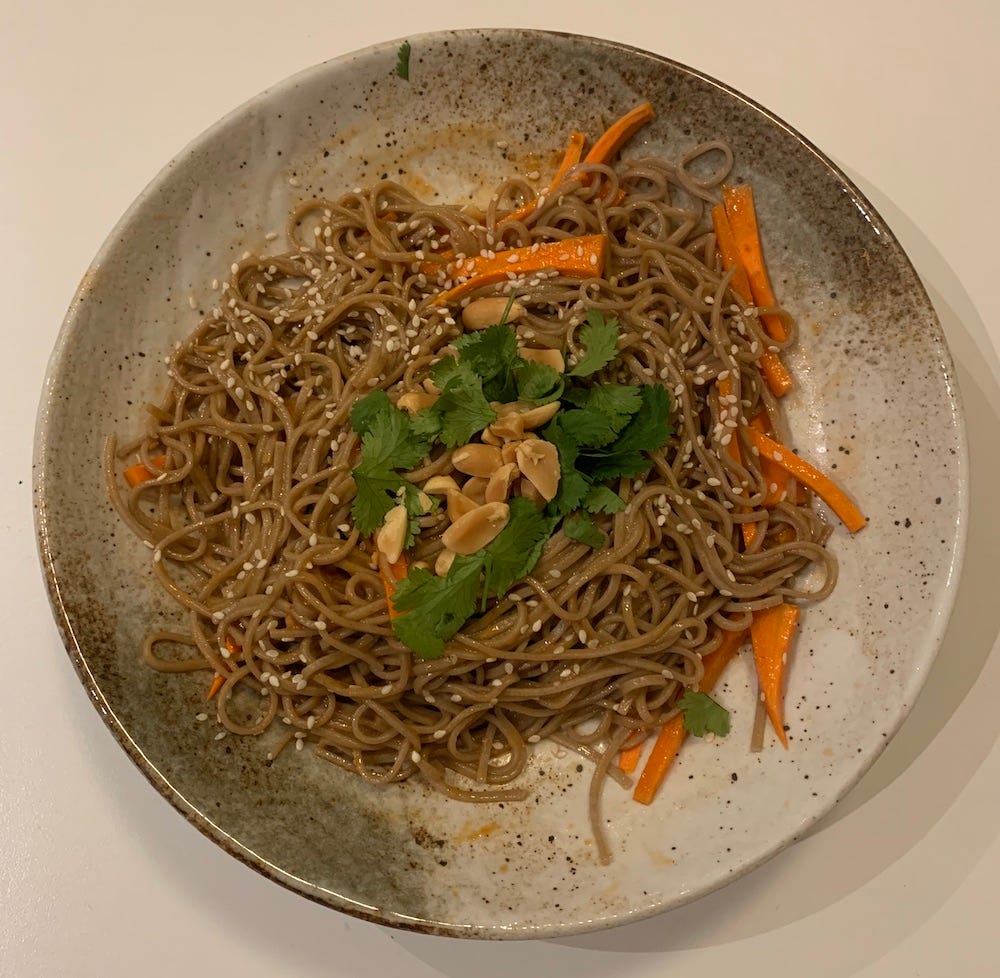 Ingredients
serves 1
1 portion Soba Noodles

1 tbsp Peanut Butter - use the best one you can find

1 tbsp Soy Sauce

0.5 tbsp Gochujang Chilli Paste (this is spicy, you can use more if you like)

1 tbsp Water or Sesame oil or combination

1 tsp Lemon Juice

1 tsp Honey

Basic toppings: Couple of Peanuts, sesame seeds
Instructions
Cook the Soba noodles according to instructions.

Meanwhile, combine the peanut butter, soy sauce, gochujang, water, lemon juice, and honey in a bowl. Mix with a for or chopsticks until it becomes one sauce. If it's too thick, you can add some water or sesame oil.

Crush the peanuts and prepare other toppings.

When the soba is finished cooking, add the sauce and toppings to it. You can eat it warm or wait until it's cold.
You can literally add any topping, just be creative! Some of my favorites where:
Mango and coriander

Shaved carrots

Pickled radishes and cashews