Hi friends,
Thanks for your great replies to the previous email — it gave me so much energy! I've got a ton of ideas for upcoming issues.
Lately, I've been trying to understand why things are happening the way they are in the world, and something I learned is that convenience is one of the most underestimated and least understood forces. This NY Times article explains that convenience often makes decisions for us because we frequently pick the path of least resistance — even if we believe those aren't our true preferences. A lot of things fell into place when I read that article. This explains why I find myself browsing Instagram so often when I actually wanted to read a good book.
The same concept applies to cooking. Even though we like doing it, it has become harder to make time for it as there are so many quick and easy options out there, like ordering take-out.
It's crazy — food is trendier than ever, yet millennials don't cook.
For my generation, it seems that the mantra is to optimize our time as much as possible. I think this is a really bad habit, but sometimes I still find myself ordering food when I get home tired after work — it's just easier than getting up to cook.
That's why I wanted to dedicate this issue to sharing some ideas on how to change this mentality.
How can we make cooking fast and convenient enough so it fits in our busy schedules?
1. Make a weekly meal planning
I experimented with this a bunch when I was living further away from the better grocery stores and it was a ton of fun. It's simple — you take a bit of time on the weekend to plan what you'll be eating the rest of the week. This way, you're saving a lot of food waste (for example by reusing herbs), and you only need to shop once. You can still maintain some flexibility around what you'll be eating every night, though, because it's easy to switch days up.
There are a couple of pre-made meal plans out there, but I highly recommend just making one yourself. You can find a free app to help you do it here.
However, most of us don't really like to plan ahead — and that's where the system failed for me. That's why you could also...
2. Double the amounts
Creating your own take-out is easy as well. Just make twice as much of whatever you're making and save it in the fridge for the next day. This works especially well for sauces and soups! One dish Sandy and I love to make in large quantities and eat for a couple of days is Palak Paneer. It's a flavorful Indian curry that goes well with naan bread or rice. This way, you could do naan on day 1 and rice on day 2 — you get the idea.
3. Cook dishes that you don't need to go to the store for
I have yet to find a cookbook that focuses on this — maybe I'll write it myself someday! Whenever I browse recipes online, it always says how long it takes to make, but never mentions shopping time. That's why I've included some recipes that you can cook at home at any time. The ingredients aren't perishable, so it's easy to stock up on them. All of these can be made in as little as 20 minutes — from getting the ingredients until having a meal on the table. There are very little Uber Eats options that can beat that time, so next time you open the app, consider one of these.
Pasta Cacio e Pepe
There are lots of pasta recipes that require very little ingredients, but this is my favorite one — you only need three. It's been around since the Roman era, and even though it's very simple, it's rich. Recipe and video.
Unagi Don
Easy recipes don't have to be boring! This dish is actually quite exciting — and great to make if you want to impress friends. I've written the recipe here.
Peanut Soba Noodles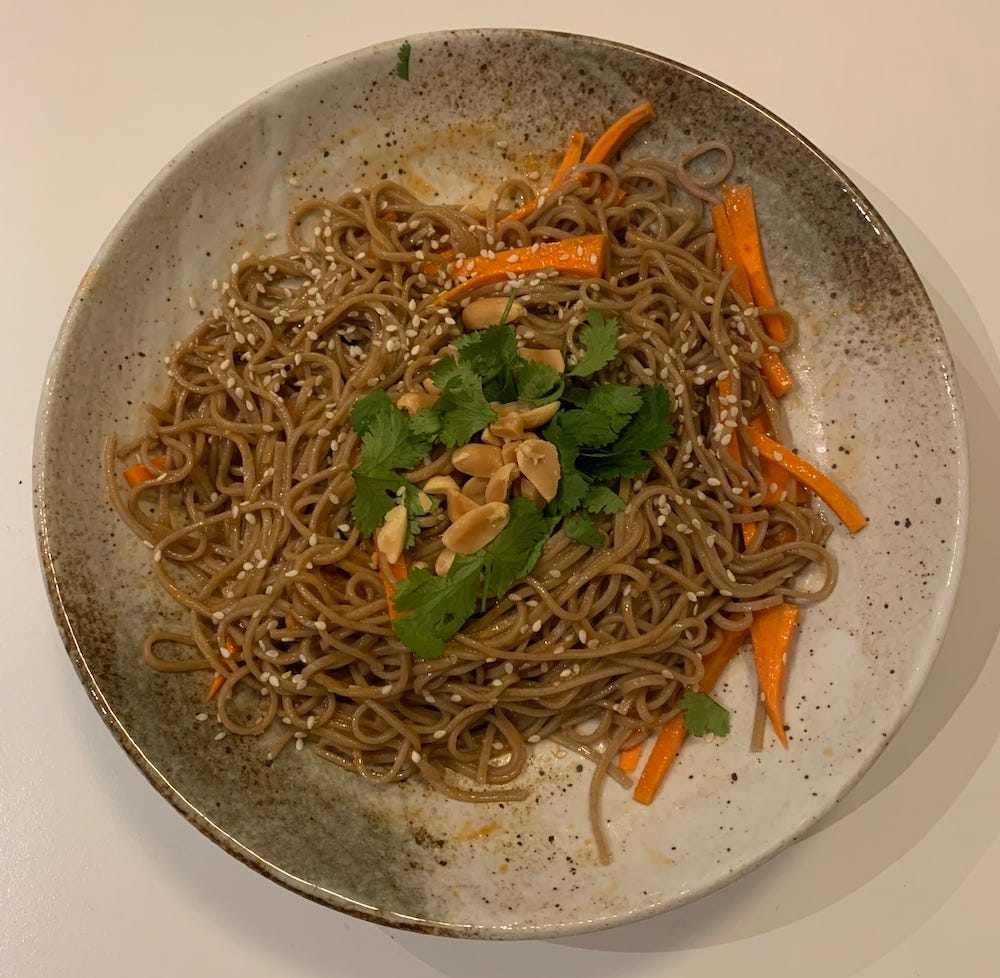 I know, it sounds weird, but this is the ultimate comfort food. I've tried out several versions of this over the past few weeks, and put my favorite recipe here. The cool thing about this dish is that it's very flexible. You can add anything you like to it: from parsley to pickled radishes, and from breadcrumbs to mango — anything is possible.
Alright, that's it for now! I hope this inspired you to cook something this week. As always — if you have any ideas or feedback, just hit reply :) Till next time,
x Sam
By the way, some of you asked me how you could help me. It's easy — just share the digest! The more people hear about it, the more we can do.
Shout out to Juan Buis for editing the issue.